Large 2.5 qt. Ceramic Pitcher - Amber Blue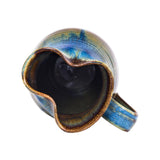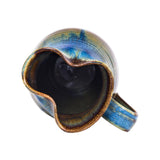 4 stars review from Velda
Beautiful! Arrived safe, sound and as requested!
Beautiful piece of artwork that I love to use to fill up my coffee pot every morning!
5 stars review from Kmindewheeler
Absolutely beautiful pottery piece!
I bought a mug in the outer banks many years ago. And the beach house where we stayed there had a pitcher that I loved but I'd never found one like it. I happened to look at the bottom of my mug the other morning while making coffee, saw the potters mark, and had a revelation. Quick google and in minutes I'd ordered the pitcher I'd been searching for! It arrived so quickly! It is perfect for sangria and flowers and probably egg nog too. I love it! Thank you!
I love it! Very unique and pretty
This was a gift for my daughter and she absolutely loved it. Great customer service, arrived carefully and thoughtfully packaged.
Stunning beautiful! Very well packed and shipped quickly. Highly recommend this master artisan's work!!! Thank you so much!